Apartment Complex Insurance TX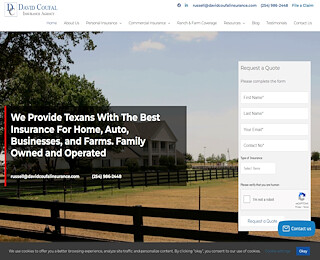 Owning a residential rental property is incredibly rewarding, both personally and financially. However, it is fraught with many risks, which is where apartment complex insurance in Texas comes in. David Coufal Insurance Agency provides property owners with apartment complex insurance so that they do not face serious financial harm in case something goes wrong.
What are some of the risks building owners face?
Catastrophic events are some of the biggest risks apartment building owners could face. Property insurance is a complicated subject because the cost of coverage is determined by many factors, including the type of construction and the location of the building.
Apartment insurance provides covers damage caused to the property as well as liability claims and loss of income caused by the loss. David Coufal Insurance Agency can help you determine the coverage you need to ensure you are fully protected from loss.
Some of the risks apartment property owners face include theft and vandalism, invasion of the right to privacy, fire, loss of rental income, liability for injuries to tenants, visitors, or employees, and advertising liability.
Basic Coverage
Apartment property owners require different types of insurance policies to protect them from risks. The two most common property insurance policies include commercial property and commercial liability. However, David Coufal Insurance Agency can help you choose other property insurance options to fit your specific needs.
Apartment complex insurance protects against loss of an apartment building as well as other structures in the property, including office spaces, swimming pools, storage buildings, and garages, among others. It is essential to choose an apartment complex insurance policy that also covers additions and improvements, which are yet to be completed. 
Various factors determine the amount and cost of coverage, including the age of the property, type of construction, location of the apartment complex, the presence of additional structures such as a swimming pool or garage, and the age of the building components, including the roof and mechanical systems.
What are other coverage options available for apartment complex owners?
Consider talking to David Coufal Insurance Agency about the additional types of apartment complex insurance policies you may need. If your building has a boiler, consider getting property insurance that covers equipment breakdown to cover damages and loss of income caused by the failure of equipment such as steam boilers and mechanical equipment.
Other insurance options available to property owners include business owners' policy, professional liability coverage, and workers' compensation insurance.
How to avoid liability claims
Apartment complex owners often face many lawsuits and liability claims. Even invalid lawsuits and claims can cost property owners lots of money in litigation expenses. Protect yourself from lawsuits from tenants and visitors.
First, get the right kind of property insurance. Tenants can sue you for many reasons, including unlawful entry, unprocedural evictions, and injuries in the premises caused by dangerous conditions.
David Coufal Insurance Agency can help you get the right type of property insurance that will protect you from litigation and damage costs. Call our representatives today to discuss your apartment insurance needs.
Apartment Complex Insurance TX
David Coufal Agency
2549862448
12270 Moffat Road
Temple
TX
76502
View Larger Map