Granite Headstones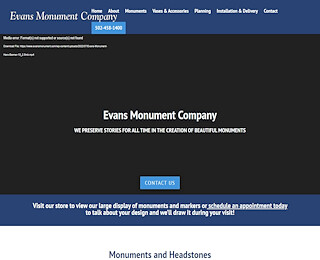 Granite Headstones Brought to you by Evans Monument
Create unique memorials that will lovingly convey or reflect the life of your loved ones who have passed away. This is the main mission of Evans Monuments, Cremation and Funeral Plans.
Our humble company has been designing and carving granite headstones, monuments and mausoleums throughout the whole country for many years. If you need assistance in deciding what type of tombstone and other memorial services, we can always help you with planning.
Why Choose Evans Monument for Granite Headstones?
Evans Monuments guarantee to provide the highest quality of granite headstones. We are here to help you choose the best and most appropriate design that will tell a story of love and remembrance for your departed loved ones.
We also offer a wide selection of funeral plans, services, headstones, markers and benches at a competitive price. That is why you must choose us and give your loved ones the most touching burial possible and the most finely designed granite headstones.
For your burial and other funeral needs, Evans Monuments, Cremation and Funeral Plans is the place to go. We are located at 3204 Bardstown Road, Louisville KY 40205.
What are Granite Headstones?
A headstone or tombstone serves as a marker or a piece of funerary art that can be seen in a particular cemetery which is an emblem that is usually placed over a grave to identify or as a dedication to the departed.
Granite headstones are one of the highest qualities and durable tombstones available. They are also long-lasting, cost-effective, and presentable. They are made of hard stones which usually involve the process of manual carving and crafting.
This piece of funerary art can also be carved by modern technology such as the use of computer-controlled rotary bits and sandblasting. You can easily spot this type of tombstone due to its good looking and captivating aura. This is also very traditional to the Christian, Jewish and Muslim religions which showcases or reflects the life of the deceased.
If you have decided on what type of granite headstone you want for your deceased loved one, take a look at what we can offer you here at Evans Monuments, Cremation, and Funeral Plans.
Evans Monument's Products and Services
Here at Evans Monuments, Cremation and Funeral Plans, we take pride in our granite headstones design as an art form.
In every piece of artwork that we do, we always put all our efforts, knowledge and skill to craft the highest quality product may they be local or for graves that are a thousand miles away. Our only aim is to provide you with a craft which you can call a masterpiece.
We also offer the following products and services to our valued customers:
Cremation Services and Funeral Plans
Traditional Monuments
Vertical and Estate Monuments
Markers (Bevel, Slant and Bronze)
Mausoleums and Civic Memorials
Benches
If you wish to know more about our services and availability of our various granite headstones, feel free to check out evansmonument.com or visit us at 3204 Bardstown Road, Louisville KY 40205.
Evans Monuments & Family Cremation Care
5024581400
3204 Bardstown Rd, Louisville, KY 40205
View Larger Map